The Retreat Nursing Home offers a perfect home away from home. Our team of professionals give your loved ones quality care you can trust.
The Retreat Nursing Home is a long-term care facility adjacent to Jasper Memorial Hospital. We are a member of the Georgia Nursing Home Association and American Health Care Association. We are certified with Medicare and Medicaid Services. Families, volunteers, and the community are welcome and active in our home.
Physicians: Dr. Derrick Lane is our current medical director. Dr. Lane and Dr. Nataliya Kubasova are attending physicians at The Retreat.
Nursing: The licensed nursing staff consists of registered nurses (RNs) and licensed practical nurses (LPNs). Licensed nurses are on duty 24 hours per day. Services include pain management, skin care and pressure sore prevention, fall prevention, feeding tubes, indwelling catheters, medication management, and other associated nursing care.
Certified Nursing Assistants: The greatest amount of contact residents will have with the staff members will be with our nursing assistants. Nursing assistants help residents with their daily needs. It is very likely that residents will develop a close relationship to our nursing assistants.
Dietary: Meals are catered specifically for each resident by our registered dietitian and certified dietary manager according to the physician's orders. We offer the residents choices in their meal selection and snacks between meals and at night.
Social Services: Support for social and emotional needs is provided for our residents. We have an active Resident Council and families often volunteer. Meetings with our families are held quarterly or more often as needed.
Activities: A planned activities schedule is provided on a full-time basis. Activities include (but are not limited to) musical events, outings, games, crafts, exercise class, books, gardening, and pet therapy.
Laundry: Laundry is provided upon request of the resident or family. All laundry is done by commercial equipment, so there will be a degree of wear and tear on all clothing. All items should have the resident's name printed on them.
Diagnostic/Rehabilitative: This includes lab, occupational therapy, speech therapy, physical therapy, and x-ray. These services are provided by Jasper Memorial Hospital and must be ordered by the resident's physician.
Pharmacy: Medications are provided by local area drug stores (resident's choice) and by Jasper Memorial Hospital.
Hospice: Hospice services are available for medical and emotional support to residents and their loved ones facing a limited life expectancy. Hospice provides compassionate care, affirming life, and recognizing dying as a natural process.
Other: Beauty & Barber Shop services are available two days per week on site.
Current Projects
Quality Initiative Program
Walk and Dine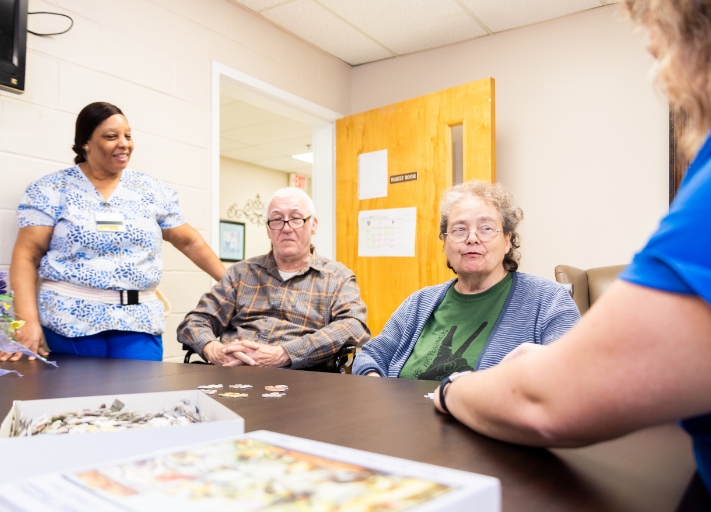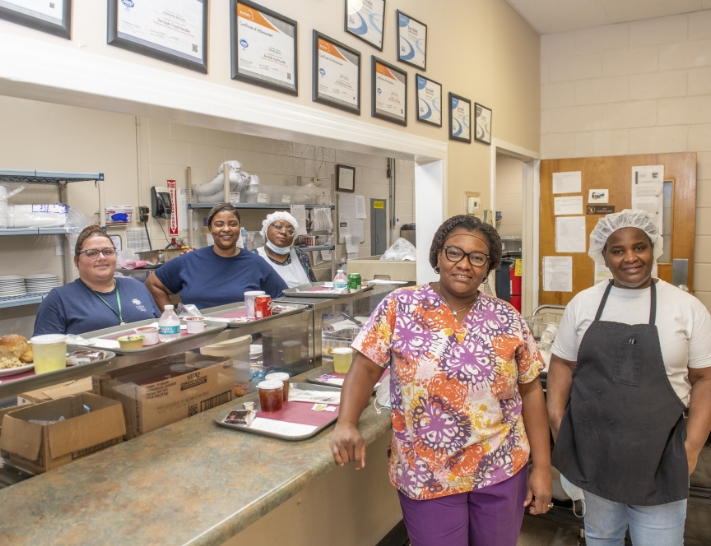 Contact Information
Donna Holman, Administrator
dholman@retreatnursinghome.com
(706) 468-4544
Melissa Francis, RN, DON
mfrancis@retreatnursinghome.com
(706) 468-4523
Sabrina Tanner, RN, ADON
stanner@retreatnursinghome.com
(706) 468-4564
Debbie Grier, RN, Care Plan Coordinator
dgrier@retreatnursinghome.com
Rena Holland, Billing Specialist
rholland@retreatnursinghome.com
(706) 468-4556
Trina Hope, Social Services/Activities
trhope@retreatnursinghome.com
(706) 468-4556
Sonya Jackson, Dietary Manager
sjackson@retreatnursinghome.com
(706) 468-4556
Jacquelyn McCall, Dietitian
jmccall@jaspermemorial.com
(706) 468-4547